Why Our School (OLD)
Our students have the support of our curriculum and essential tools via our "cloud" website.  With so much information available, knowing what is most important can be overwhelming.  Our "cloud" directs students to the tools we use on a consistent basis; all in a click of a button.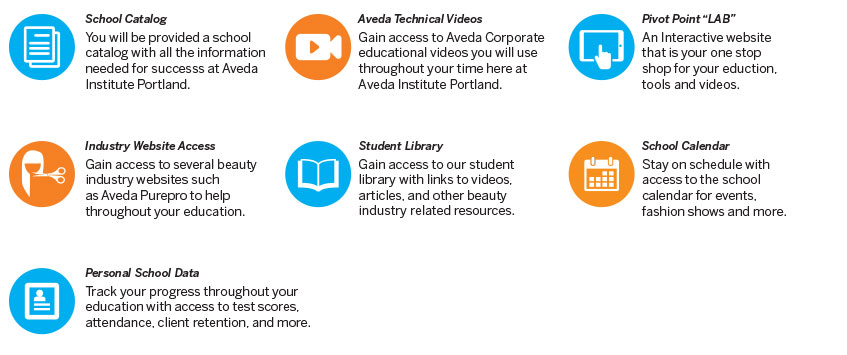 School Calendar

Our electronic and immediately up-to-date calendar allows students to access a plethra of important information. Students will have access to events, photo shoots, guest speakers, school closures and much more via the internal school calendar.  
Personal School Data
Personal ID & Password provide our students their unique data throughout their program. Students are able to access:
Hours completed
Written & Practical test scores
Clinic services completed
Attendance & Academic Standing
 
Aveda Technical Videos
Students are able to view Aveda techniques for haircuts, color, and facials in detailed videos.See a live demonstration in class and be able to review the technical video at anytime.
Student Library
Support documents are electronically available via our Student Library. Access to various charts, new technical and product launches, professional guides, industry articles, and much more!
Pivot Point - Interactive "LAB"
In 2015 Aveda Institute Portland was awarded the Modern Salon Excellence in Education award for technology. Our new Pivot Point "LAB" platform will have everything you need to be the best you can be at Aveda Institute Portland. Some of the features include:
Educational Videos
Online Test Taking
Interactive Social Media
Instructor Communication
Latest Updates
Electronic Portfolio
Industry Website Links & Access
Various manufacturers will offer professional pages with access to the latest news and resources. These pages are easily accessible to our students via our all in one access "cloud" based website.
School Catalog
Our policies and guidelines are developed to help students complete their program successfully. Access to the catalog is right at your fingertips.