Earth Month 2021

Who is Hopkins Demonstration Forest?
Hopkins Demonstration Forest is a 140-acre privately-owned forest open to the public for self-guided exploration, tours, workshops, and education programs.
The goal of the organization is to utilize their forest as an outdoor laboratory where learners are actively engaging in the practice of forestry through practical and hands-on experience.
Hopkins Demonstration has hosted over 5,000 K-12 student visits and they partner with OSU Extension program to support for small woodland owners through numerous education workshops.
Learn more at www.demonstrationforest.org. Learn more at www.demonstrationforest.org.
Help Hopkins continue to serve the community this Earth Month!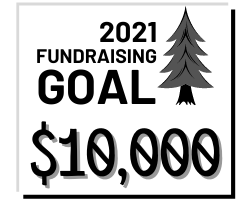 How to Get Involved
We're taking our fundraising digital, and we hope that you'll join us! Here is how you can help us reach our goal...
DONATE NOW
Make a direct donation towards our goal!

SUPPORT WALK FOR TREES
Get outdoors and explore the beautiful PNW this Earth Month! Walk for Trees is a way to get moving and really appreciate the forests that we work to preserve.
Students are setting goals for how many miles they are going to hike throughout March and April, and you can show your support with a pledge for each mile!
Choose your pledge (like $1 or 25¢ per mile), then make your donation at the end of April!
HELP FUNDRAISE ON SOCIAL MEDIA
The fundraising doesn't have to stop after Earth Month! You can create a Hopkins fundraiser on Facebook for your birthday or any other celebration. Get your friends and family involved and watch that fundraising total rise!
Head over to Facebook to see our fundraiser! Details to create your own coming soon!
DONATE YOUR TIME
Hopkins needs help cleaning up trails after the storm damage. If you're interested in lending your hands for a few hours at a work party, contact Sam at [email protected]


We've raised over $225,000!

Check out some of the highlights from our past Earth Month fundraisers... From Hopkins Field Day, to bake sales and waffle bars, to the amazing hair and makeup shows that showcase the awesome talent from our instructors and students. We really put the fun in FUNdraisers!