10 Simple Steps to a Stylish Halloween! (Part 2)
Oct 26th 2015 | By rachel
Welcome back to our frighteningly fabulous Halloween hair and makeup looks!  Brought to you by our stylist team, these too-cute costume ideas are ready for you to rock out step by step just in time for the most spooktacular time of the year...
Look #2 -  Kitschy Alien Queen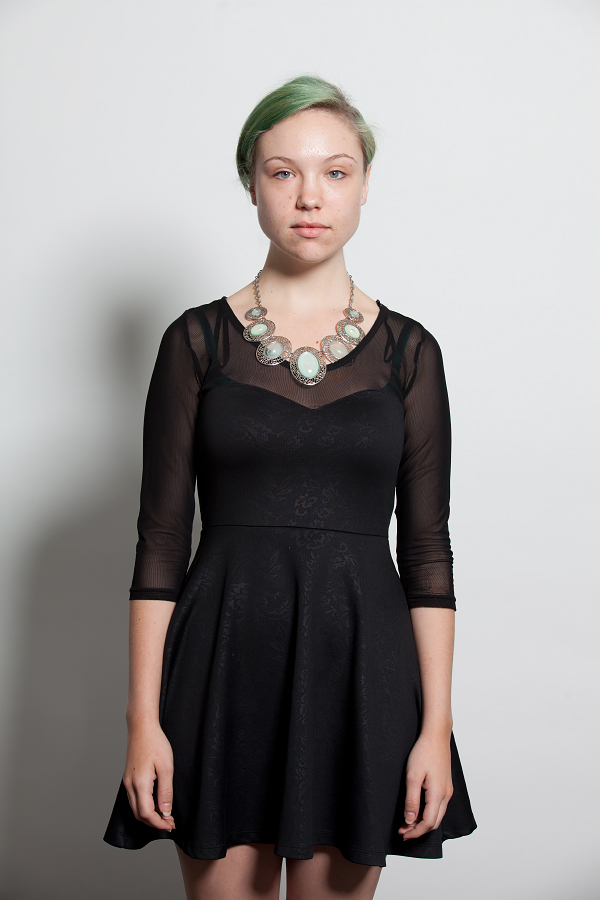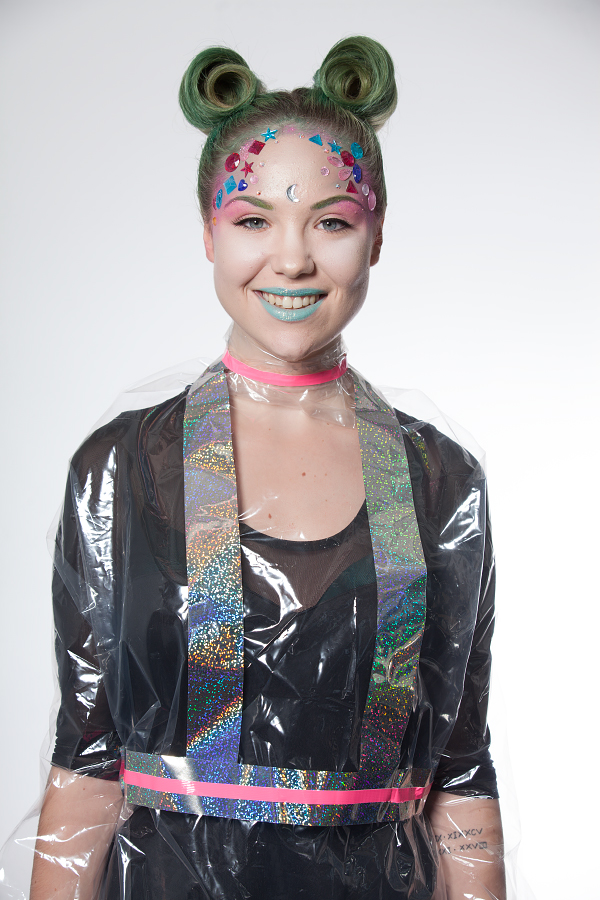 10 Steps for Hair:
On clean, dry hair, spray Pure Abundance Style Prep throughout.

Divide hair into (2) sections - forehead to nape with a center part.

Starting on your left side, brush hair smoothly up to the top of your head with tension.  Use an elastic band to hold ponytail in place.

Repeat the last step on your right side.

Curl both ponytails from ends to the elastic band.

Loosely divide each pony tail into (2) sections - one facing forward and one facing back.

Starting on your left side, roll the front section of your ponytail down into a large barrel curl - pin in place. Repeat on the back section of left ponytail. 

Repeat last step on the right side ponytail.

With your fingers, loosely pull each pinned barrel curl apart to create a larger shape.

 Spray style with Air Control.
10 Steps for Makeup:
Apply medium to full coverage foundation.

Sweep metallic or glittery eyeshadow similar in color to your natural skin tone across your cheeks, eyelids, bridge of your nose, chin and forehead.

Let a nickel-sized amount of false lash glue* dry for 3 - 5 minutes on a sanitized palette or plate.  Dip a variety of colorful craft store crystals, gems, jewels or sequins in the lash glue and tap gently to your forehead in a design of your choosing.  We suggest concentrating your jewels at each temple, scattering a few out towards the center of your forehead to create a celestial galaxy effect. (*patch test for glue allergies if unsure at least 48 hours in advance!)

Blend a bright pink or peach blush shade over your temples and brow bone - fade upwards towards your forehead.

Shape and fill your eyebrows with a bold, unusual color (we suggest green or purple).

Use a similar or complimentary unusual color to also shape and fill your lips.

Layer thick mascara on both top and bottom lashes.

Add false lashes or glitter for a more dramatic effect.

Set your makeup with translucent powder.

Apply a high shine lip gloss to the center of your lips and blot lightly.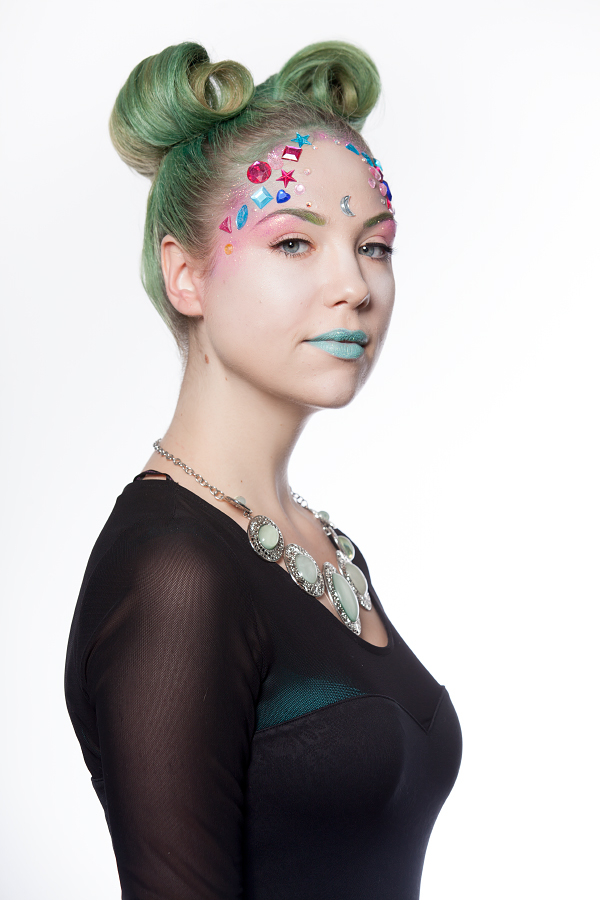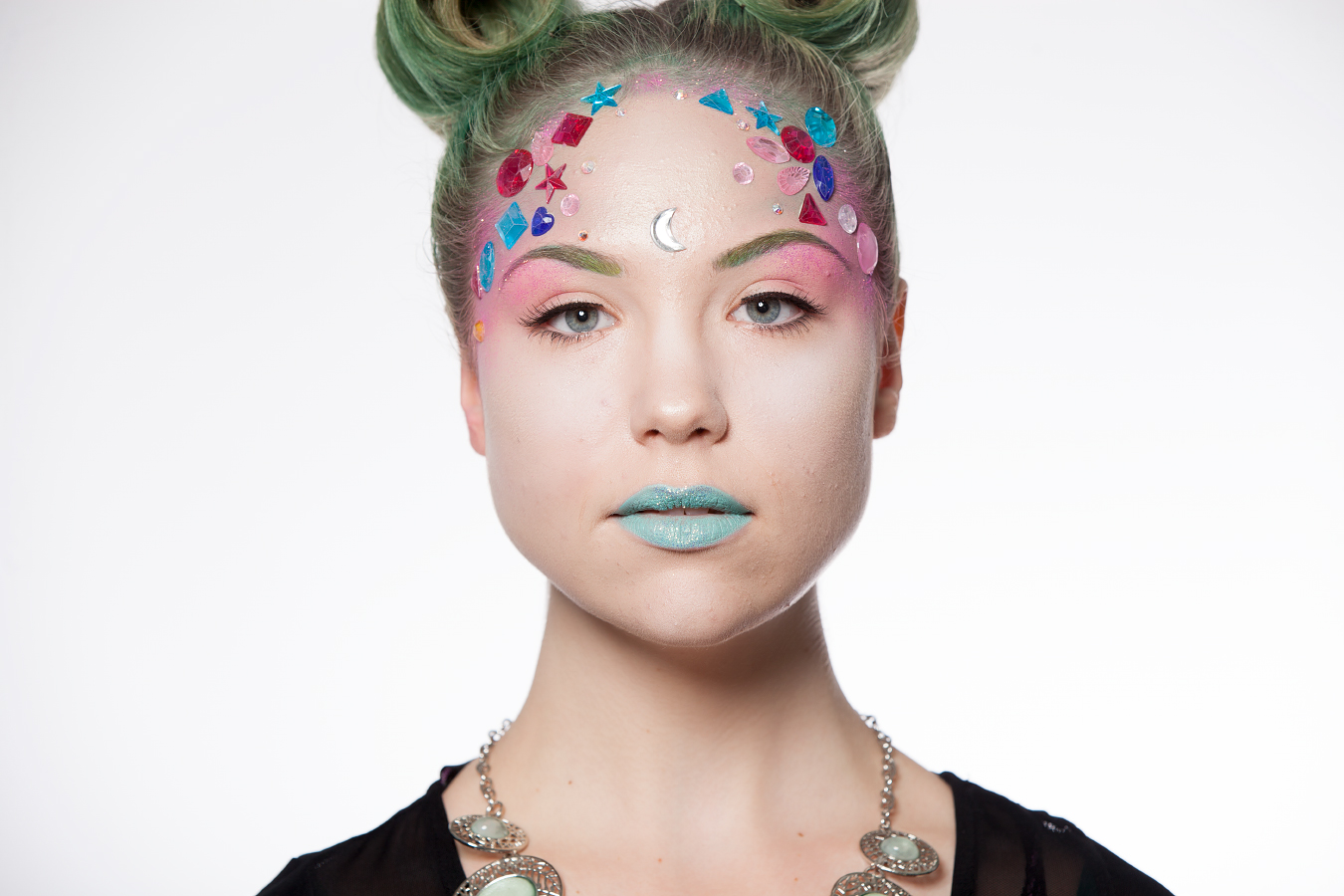 *BONUS COSTUME IDEA!*
Using solid black, white or silver foundation garment (ie. silver bathing suit, little black dress, plain white fitted t-shirt and leggings), wrap a large plastic drop cloth around yourself like a cape or strapless dress.  Have a friend place brightly colored or silver duct tape across the plastic to resemble a retro-futuristic space suit.
Optional: Glue your extra craft store crystals to the shoulders or waist band for a dramatic effect!