Graduate Spotlight | Harris Harper Salon
Oct 14th 2019 | By Samantha

We were excited to catch up with graduates Julie Brown and Zach Hirsch who opened up their own salon, Harris Harper, in May 2019. We toured the beautiful space and interviewed them to find out how they got to where they are now. Check out our Graduate Spotlight | Harris Harper Salon!
How they found the Beauty Industry
Julie launched into her first career at Nike right out of her 4-year degree in Retail Brand Marketing. Off the bat, she realized that climbing the corporate ladder wasn't for her and she was ready for a change. She always loved watching makeover shows and knew that she wanted to make other people feel good, so she took the leap and enrolled in Cosmetology School at Aveda Institute Portland. 
At school, Julie met Zach who was already an artist before jumping into the industry. He was passionate about art as a graphic designer, but he felt detached behind the computer. Once Zach knew the beauty industry was his path, he set out on a road trip to visit different Aveda Institutes across the country from Texas, Minneapolis, Denver and Vancouver BC., but he ultimately chose Portland. After touring, he knew this was his place.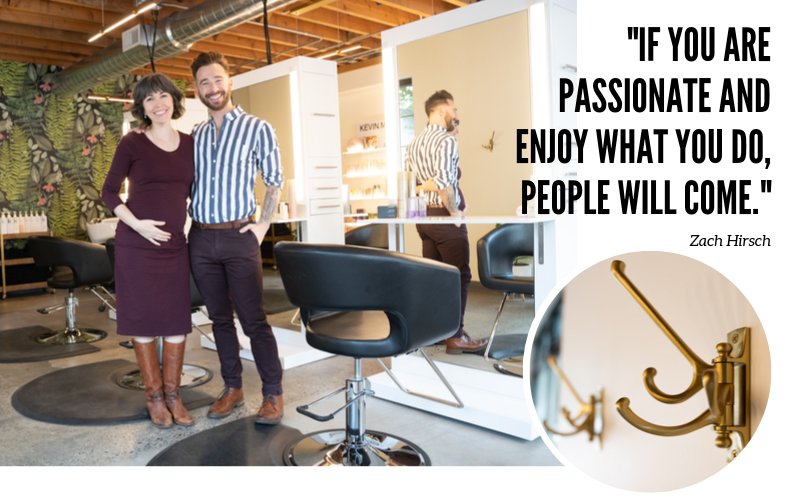 Memories of their schooling
During school, "there was always a lot of care", Zach mentions. Even just the slightest things like an instructor changing his body position when foiling made all the difference in his timing and color technique. Julie was thankful for the Aveda cutting curriculum. She also remembers the ways that she was pushed by her instructors to succeed and challenge herself. Even today, the Aveda Techniques are ones that she continues to use.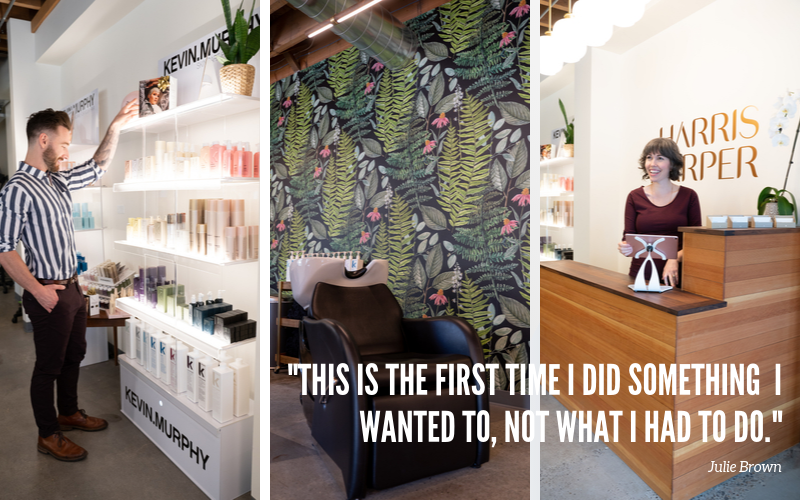 Curating Their Team
Harris Harper celebrates a stylist's individuality and craft. When building their team, they welcome a variety of specialization and clientele. "If a stylist loves doing mullets, do mullets! As long as they can do a pretty awesome mullet," says Julie. The common thread that they look for among their team is the delivery of quality to each client that walks through the door.
Building Harris Harper
Zach and Julie always had the dream to open their own salon. They both worked behind the chair and learned more about their craft before the time was right. Zach had an ah-ha moment as an independent contractor, that "if you are passionate and enjoy what you do, people will come. You have to have confidence in yourself and your skills."
Once they found the current location for Harris Harper and had their loan approved, it started to become so real. In our visit, we saw their intention and thought put into every aspect of the salon. From the custom wallpaper featuring native PNW plants by friend and client, Jenna Lechner, branding and logo (including their interlocking H window treatment) by Dave Hayden, and a handcrafted front desk by Jon Joffe that tied in the reclaimed fir ceiling beams and brought the whole space together. Julie and Zach exemplify uncompromising excellence.
Final Thoughts
From watching them light up as students at Aveda Institute Portland, to their success behind the chair for many years, and now celebrating their co-ownership of Harris Harper Salon, we can't wait to see what they do next. Congratulations Julie and Zach.