Graduate Spotlight | Sacred Moon
Dec 14th 2020 | By Samantha

Meet Vanessa Huntley
Since the moment Vanessa Huntley joined the beauty and wellness industry, she has continued to grow her skills and share her knowledge with the Aveda Institute Portland network. Originally, Vanessa perused her career in massage becoming a licensed massage therapist to connect and bring health and wellness to her clients. Growing up, touch was a sign of love and attention with her mother massaging her head that stuck with her. Now, she could write a whole story just about touch and the impact it has on others.
However, Vanessa yearned for a creative outlet and decided to start Cosmetology school at Aveda Institute Portland to add hair styling, esthetics and nails to her list of crafts. After graduating, Vanessa has stayed involved at the school as an advisory board member and a guest speaker for Work It Wednesday.
Miss Independent (Contractor)
After graduating, Vanessa jumped right in as an independent contractor with Red Velvet Salon. So often, students are nervous to start their first job after school, but Vanessa felt like she was ahead of the game. "It's scary but you don't realize your skills yet. They (Aveda Institute Portland) have given you the tools you need to succeed, you just need confidence." After spending several years at a salon, Vanessa decided that she wanted to create a space completely curated to her own vision which is where Sacred Moon began.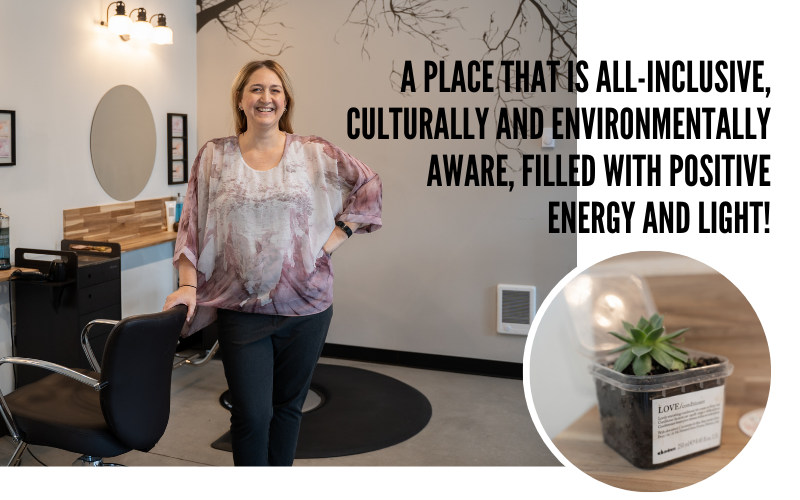 Building Sacred Moon
When Vanessa envisioned Sacred Moon, she wanted a place that was all-inclusive, culturally and environmentally aware, filled with positive energy and LIGHT! Windows run the full length of the salon along Interstate Ave in North Portland. Location was a big factor in choosing the perfect spot for Sacred Moon, in a community and close to home for Vanessa to have a strong work/life balance.
Thought went into every detail from products to a salon waste recycling program, to the way dispense is laid out. Vanessa loves to reuse packaging and even incorporates the Davines containers as little plant holders as part of the décor.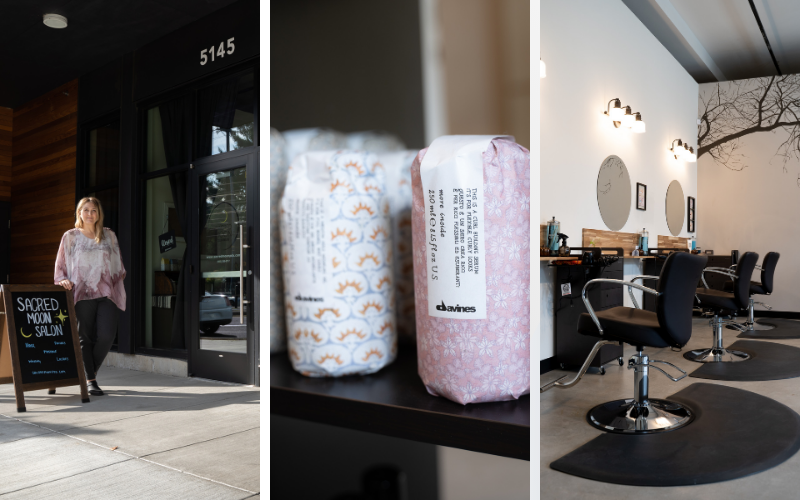 Sacred Moon is home to 3 styling stations, a dark and serene massage room, and a relaxing and upbeat esthetics and waxing room. Her salon has become a small family of self-motivated stylists and estheticians who support each other. When looking for more stylists to join her team, Vanessa welcomes you whether you have plenty of time booth renting under your belt or not, as long as you share the inclusive values at Sacred Moon like sustainable and vegan products and offering culturally appropriate services.
When it comes to her own practice, Vanessa works alongside her team both in the massage room and on the salon floor. She has a wealth of knowledge about color, products, and hair that she is happy to share especially for a newer stylist who is getting comfortable behind their own chair.
If you're interested in becoming a client at Sacred Moon or joining her team, check out their website: https://sacredmoonpdx.com/