Products We Love: Thickening Tonic
Jul 29th 2016 | By rachel
We sat down with Vancouver Instructor Beau to find out about a new Aveda fave,Thickening Tonic. A relative newbie to the Aveda styling line this product has garnered some serious love from stylists and connoisseurs of volume alike. Since Beau knows a thing or two about achieving the perfect coif, we knew he would be the man for the job!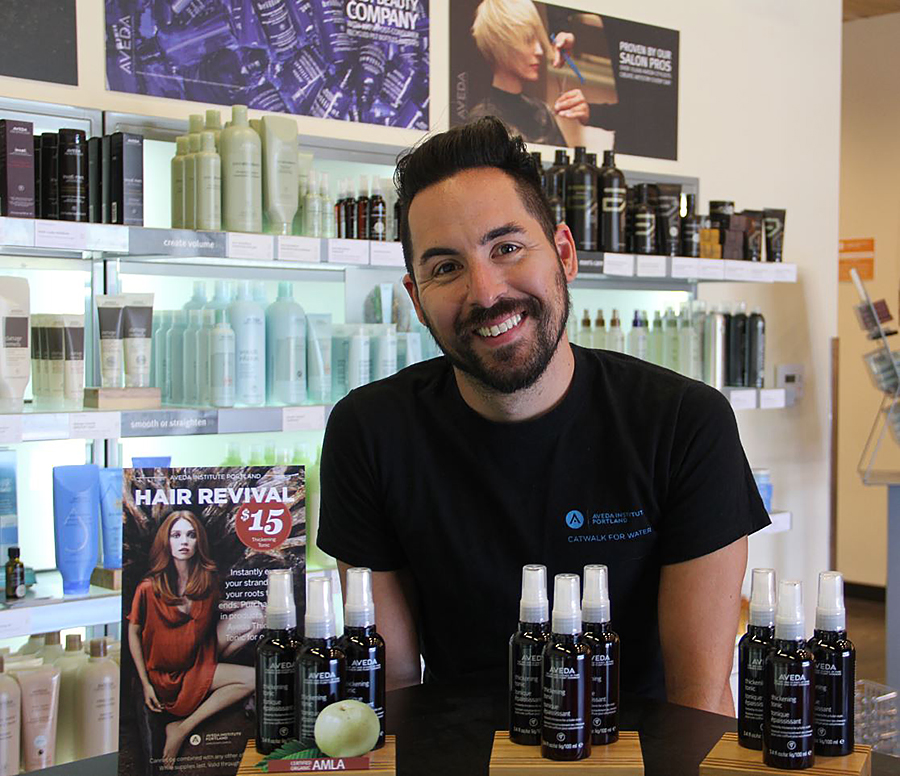 How long have you been in the industry? I first began selling professional beauty products in March of 2005.
Why do you love Aveda? I fell in love with Aveda in 2004 when I was going to school in Santa Barbara. The experience center on State Street lured me in with the fragrance and envy inducing green glass Botanical Kinetics skincare bottles, the way my skin looked and felt afterwards kept me coming back. As a student on a budget, book ending the open and close of each day was a ritual that let me feel just a little bit indulgent. 12 years down the line I'm happy to still be learning about and growing my list of favorites/must-haves and sharing those experiences with my students and guests.
What is Aveda Thickening Tonic? Thickening Tonic is an all over body building spray to create lasting fullness in the hair.
What hair type is this product best for? Thickening Tonic is good for anyone who wants to plump up their style, however those with medium to finer textures will probably appreciate the results the most.
How do you use it? Always read labels! Manufacturers will generally tell you exactly how to use the product to get the best results that have been proven during development. It's very important to shake Thickening Tonic well before use! Sometimes ingredients in certain products will separate when left standing, shaking a product before use will redistribute the ingredients evenly throughout the solution delivering the full benefit. Also combing the product through the hair ensures even saturation so that no strand gets left behind. Blow dry and style as desired...Flipping upside down and finger drying the hair will leave a beachy, more casual finish. Using a round brush will give the most control and added polish.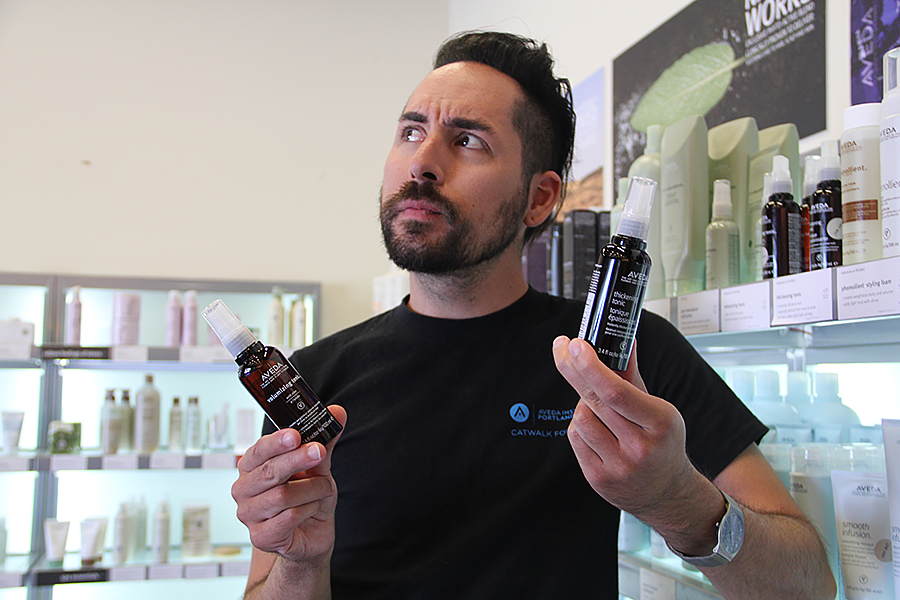 How is this product different from Aveda classic,Volumizing tonic? Volumizing Tonic is more of a root boost, meaning it should be applied closer to the root area (think section-by-section at the base when round brushing) to create added lift when blow drying. Thickening Tonic is used throughout the style and will plump up hair root to tip. I also tend to recommend Volumizing Tonic if the hair lacks shine.
Is there any fun fact about the product? It's loaded with several plant based thickeners and proteins, Amla fruit from India is the real star, which is also featured in the Invati line.A little bit goes a long way! The size of any products packaging is often indicative of how much you should use. (Like the size of a typical eye cream vs an all over moisturizer) Personally I also like the finish when left in the hair to air dry or be diffused. It becomes more like a salt spray with less shine but still adds body.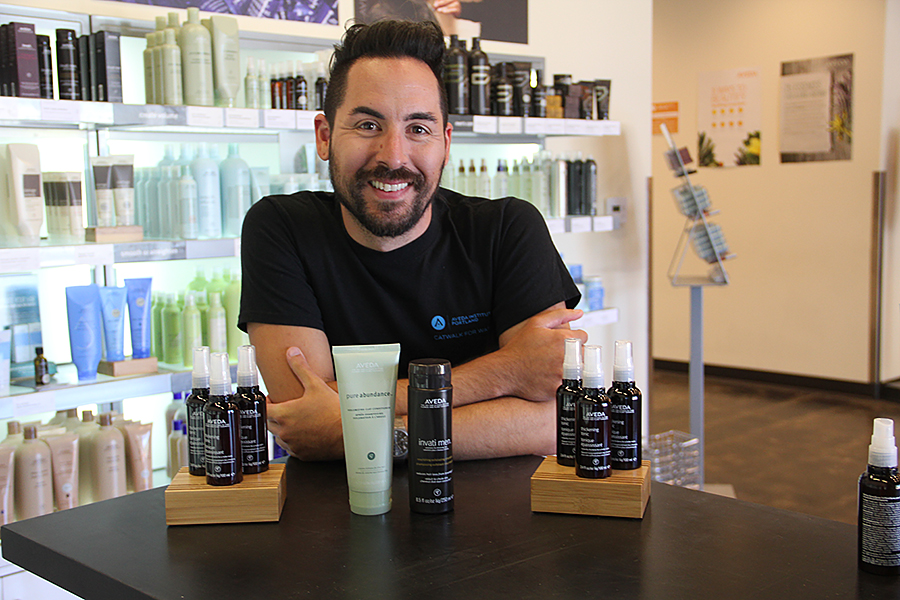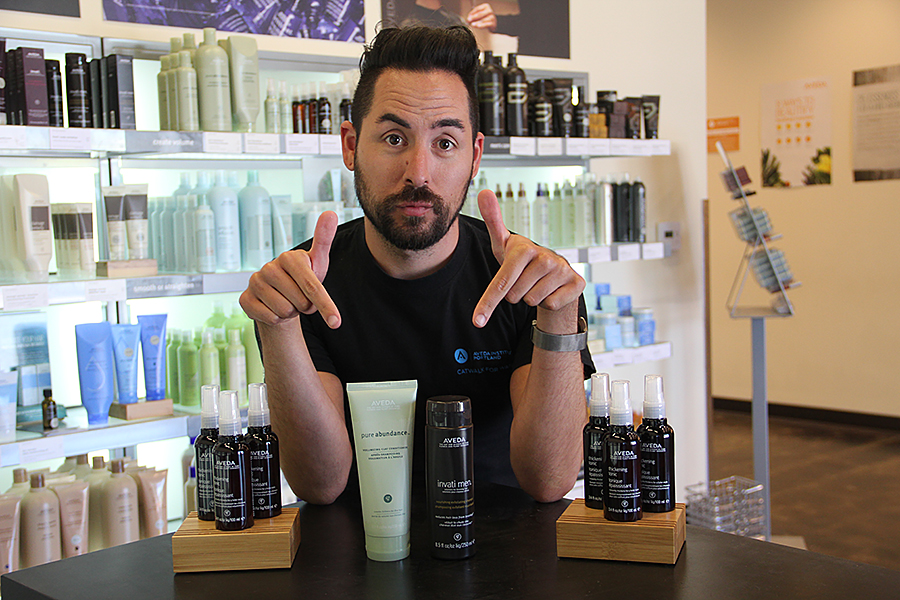 This month, if guests buy one regularly priced product ($25 or more), they can get the Thickening tonic for half off- just 15 bucks. What would your product picks be, if you were checking out?  For guests with shorter hair or men, the new Invati Men Nourishing Exfoliating Shampoo. This has become my daily routine to save time and maximize fullness in my hair whether I have time to blow dry or not. Especially helpful when traveling to avoid bringing too many pieces. For longer haired guests I'm really fond of how the Pure Abundance Volumizing Clay Conditioner performs, it gives incredible softness but also sets the stage for added fullness.