Skin Stories
Mar 02nd 2016 | By rachel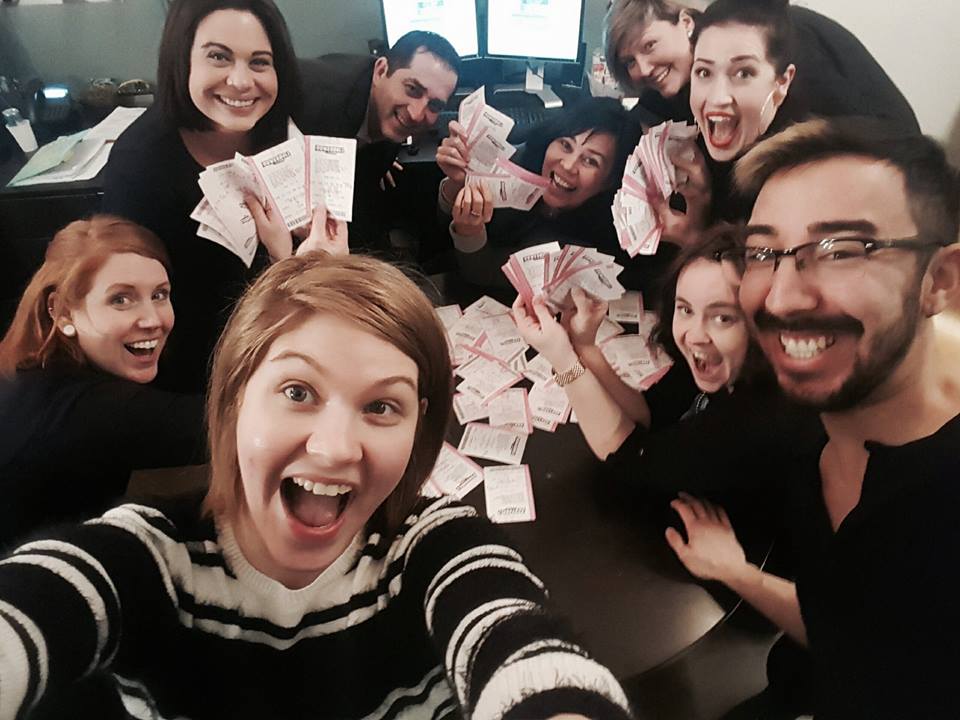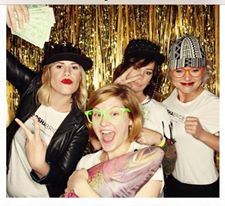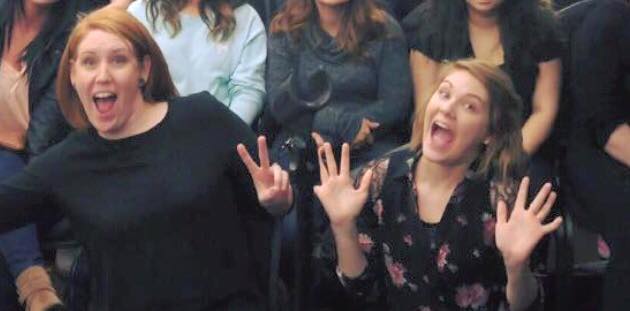 This is me, Rachel. You have probably seen me around the building and more then likely you have mistaken me for an incredibly busy student, who you've never seen do any actual services and is always in a rush. In real life, I'm not a student. I actually work here at AIP, behind the scenes. I'm the resident blogger and yeah, I'm kind of famous for my ridiculous open-mouth smile in every work pic! But today I am on a different kind of mission, the most daunting kind of all, improving the way I look AND feel about myself!
The Problem: Acne
I have worked at Aveda for almost 4 years and in that time I have found out something really special about the beauty industry, "The beauty industry isn't a place for only beautiful people." What I mean by this is that the beauty world is for regular folks, people with all kinds of problems and insecurities. This industry is a place where people can come to rediscover beauty in themselves.  And that leads me to my mission: clearing up my adult acne once and for all! *Gasp*
The Mission: Clear Skin
In an effort to get clear skin and really give this Aveda thing a go- I am going to do a study on myself with my face as the test dummy. After a good solid year of getting on again/off again facials (mainly when Beatrice yells at me), I am committing to the following ground rules to see how regular facials and proper skincare can change my skin for the better!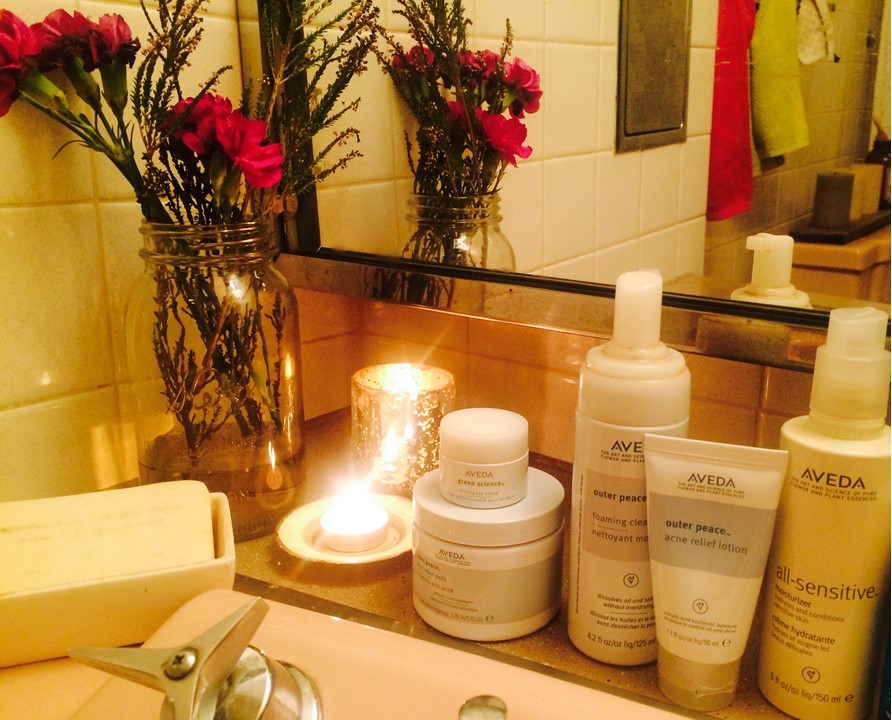 (Aveda Products pictured above: Outer Peace pads, Green Science Eye Creme, Outer Peace Foaming Cleanser, Outer Peace Acne Relief Lotion and All-Sensitive Moisturizer) 
The Rules:
1. I Must get a Regular Facial ( 1x a Week- the maximum that Instructor Beatrice would recommend a guest getting)
2. I Must continue to use my prescribed Aveda Skin Care routine- and nothing else. See above Picture- that is my actual bathroom, so you know I'm serious!
3. I Must use only Aveda Makeup on my skin ( For me that's Tinted Moisturizer in Beechwood and powder in Linen- I like to combo the two for a full coverage look)
4. My diet will stay the same. This means I'm not going to change my diet drastically and actually be doing some insane Portland Juice cleanse- I want to see what just facials/Aveda products can do!
5. Lastly, but most terrifying, I Must document my skin along the way-bad days or good days. YIKES!
Facial #1: Wednesday March 2nd 2016
Where: The Aveda Institute Portland
Student Esthetician: Tanya
Facial: Outer Peace ( Plus Plant Peel) recommended by Beatrice Van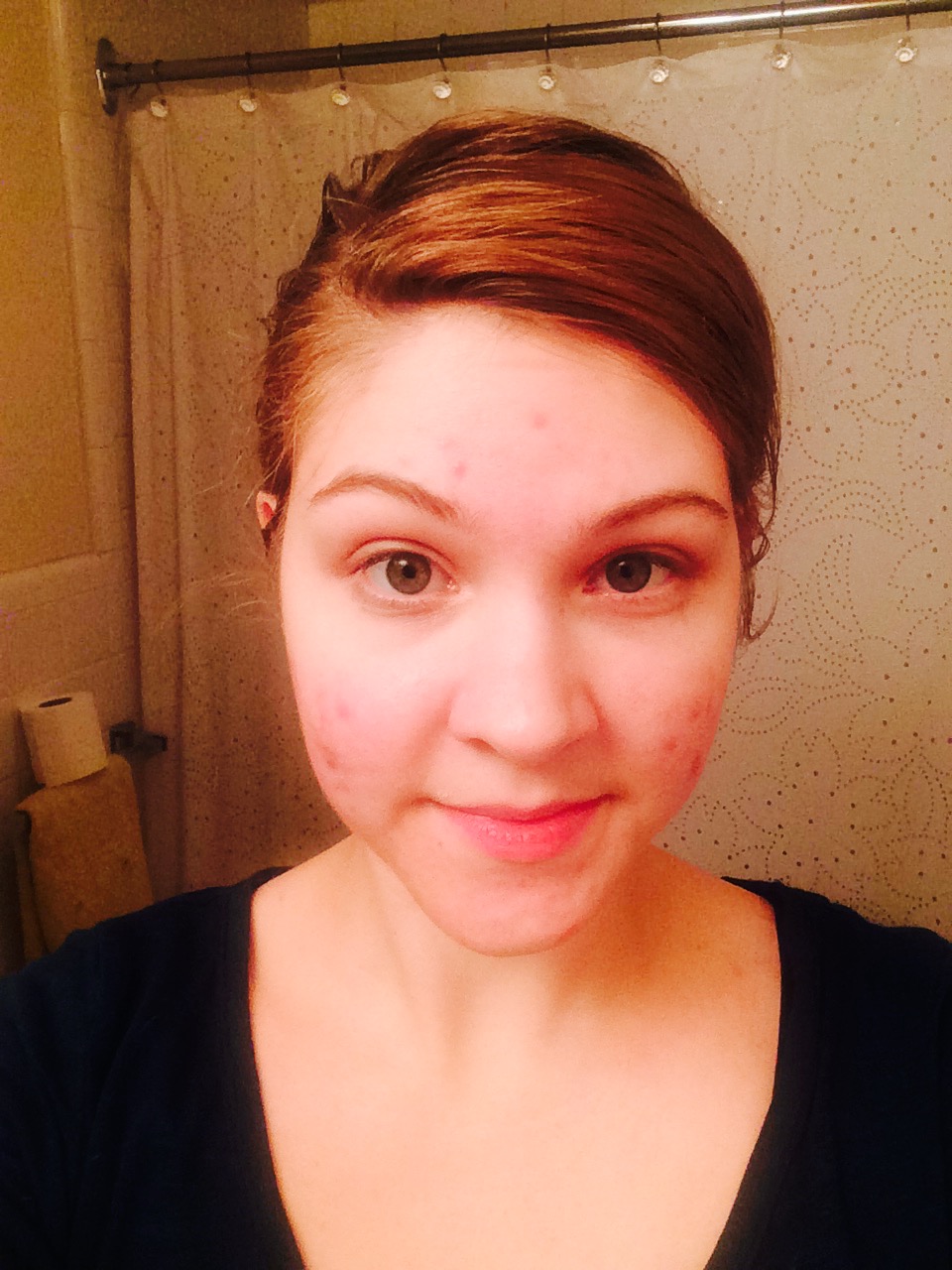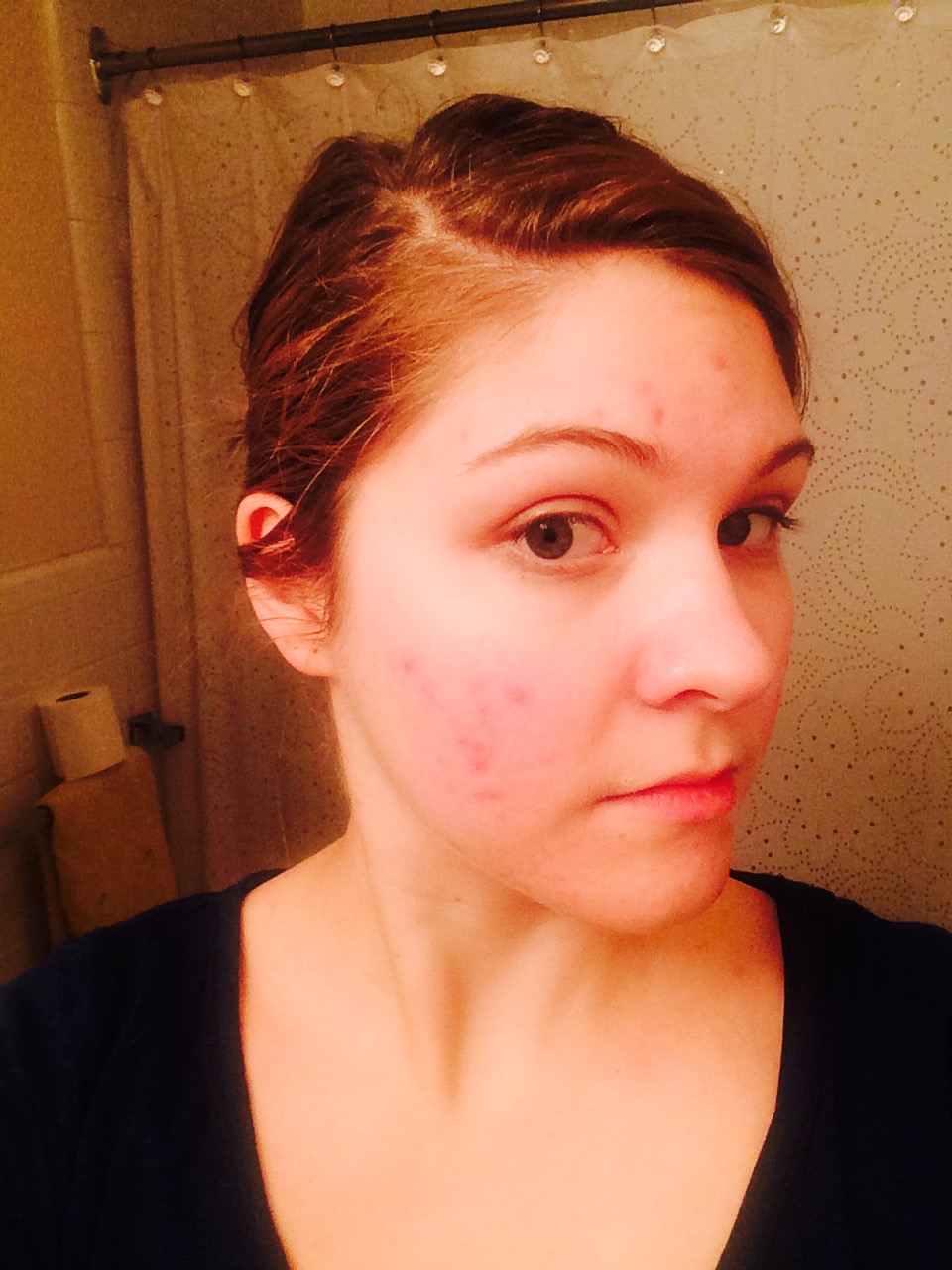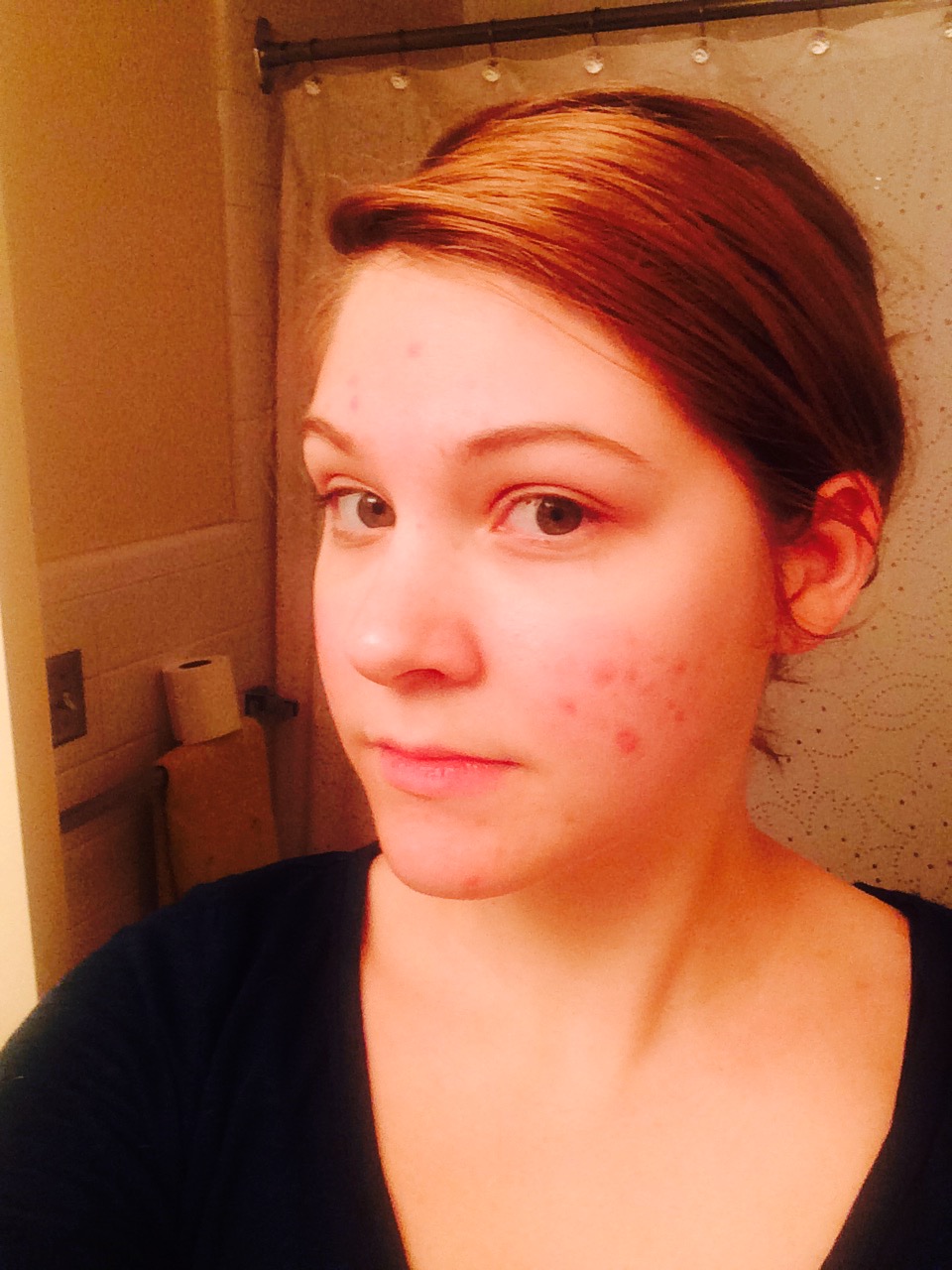 I literally thought of this idea in the middle of my facial with Tanya ( who may be an actual saint because she didn't look at me like I was completely insane when promptly I announced that I would be blogging about this and that she was now my sidekick). I broke down some of my thoughts on the service and the results below! Stay tuned to the blog see how the next facials go! 
Price of Service: $30 (Outer Peace Facial) + $15 ( Plant Peel Add-on) = $45
Time of Service: 6:30pm, Right after work for this girl! I normally pop in over the weekend for services  but I actually really enjoyed having a mid week relaxation session.
Chosen Aroma: Tangerine. Which I never pick, so we can blame aroma therapy for this crazy idea!
Product Purchased: I needed more of the Outer Peace Acne Relief Lotion so I picked some of that up on my way out. I use it every morning and every night. I sometimes put on the Aveda All-Sensitive Moisturizer over top in the am just for extra moisture since it is still chilly out! 
Favorite Part of Service: At some point when you have the Outer Peace cooling mask on, you are then wrapped in gauze that has been soaked in ice. I don't know why I enjoy this part so much as I am generally an "always cold" person but somehow this is very soothing. 
Thoughts: Very relaxing. Tanya has the touch of a thousand angels. But no, seriously she does. I always feel so relaxed after a facial and recharged- so it was nice to do in the middle of the work week.Tanya instructed me to drink lots of water post facial and even brought me a cup to get started. I took  her advice and chugged water for the remainder of my evening.
Skin Analysis: My skin looks noticeably brighter. Which is really nice because my personal  focus is always on breakouts and not so much on my tonality- it was nice to appreciate and see another element. My skin also feels amazing, like ready for bed amazing.
Final Notes: I'm super excited to get some sleep and wake up in the morning and take a peek at my skin. I don't know why but I still hold on the childlike belief that if I go to bed things will be magically better in the AM. So, I'm pretty sure I'm going to wake up to a brand new me- but we will see!
Interested in seeing how facials can be a part of your regimen? Book an appointment today! 
Or