Beauty Quickie: Liquid Liner
Jun 22nd 2017 | By rachel
There seems to be never ending tips and tricks on how to get a killer winged eye-liner. Mastering the perfect flick may be time consuming but it's a job well worth it because nothing makes the eyes look more feminine. We caught up with Instructor Amanda, the QUEEN of the cat-eye, to find how to get this staple look in a few simple steps!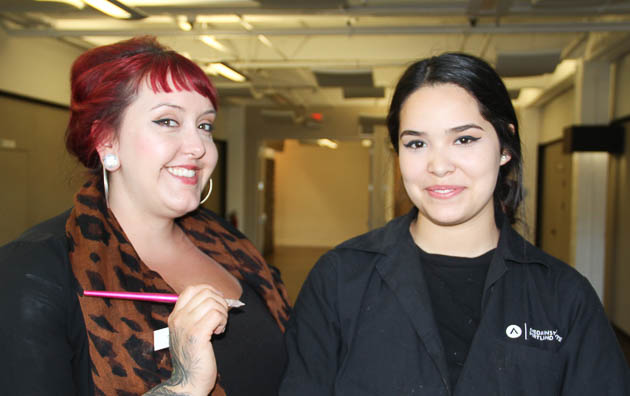 Prep: Clean Eyelid of Debris
​Before starting your look, be sure to prep your eyelids for a smooth application by wiping away debris. Amanda used a cotton round dipped in Aveda Pure Comfort eye makeup remover to get a clean base. To clear up any extra liquid, run clean cotton round across the lid.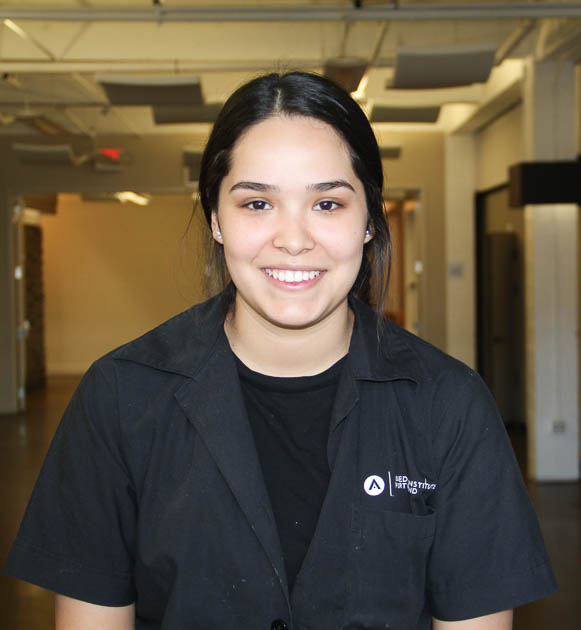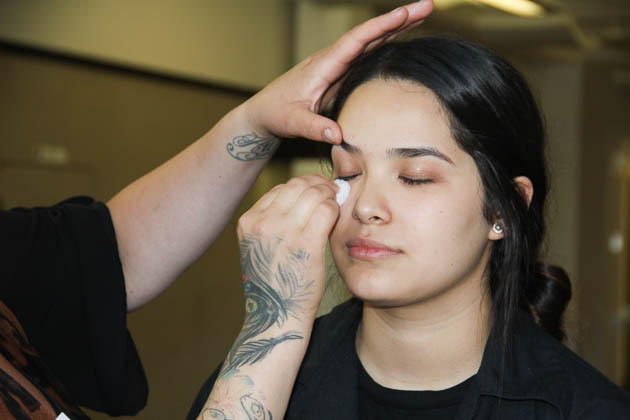 Step 1: Powder
For a quick neutral look Amanda swiped on a translucent powder approximate a half a shade lighter then Rosa's skin tone. This helps the liner pop on the lid and even out skin tone.
Amanda's Pro Tip: If you are doing a full eye makeup look, do your shadow application BEFORE your liner.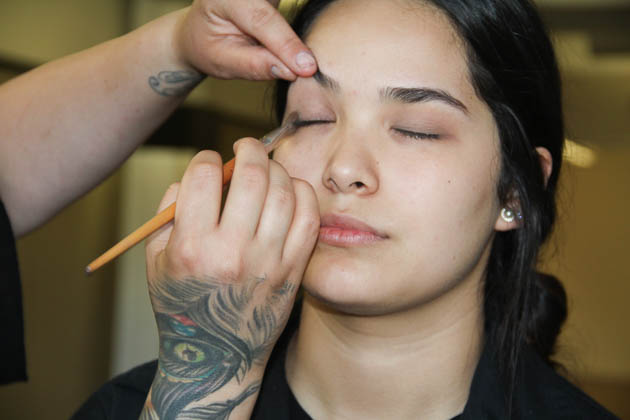 Step 2: Liner- Outside in
To create the perfect line: try starting from the outside and tracing your way in. Create a little wedge in the corner of your eye and drag it into your lash line. Once you reach the halfway point (directly above the eye's iris), stop. Reposition and from here, don't try to trace the line to the inner corner.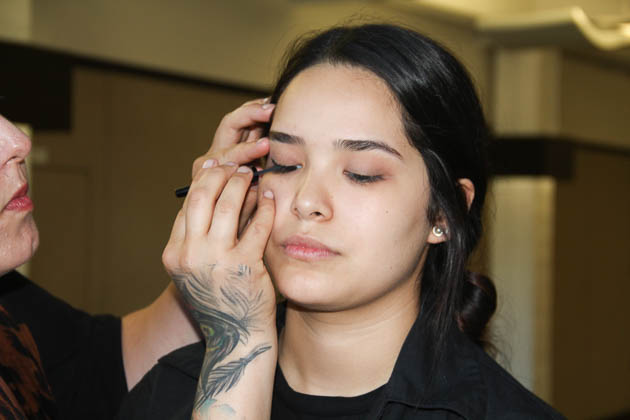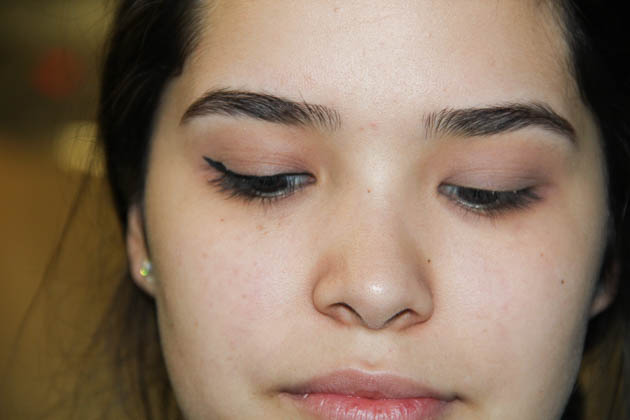 Step 3: Fill in your Liner ( Q-tips are your very best friend!)
Simply press the applicator into the lash line to create a clean, graduated line. Want those extra-clean lines? Don't be afraid to grab a damp Q-tip and use it to erase any missteps.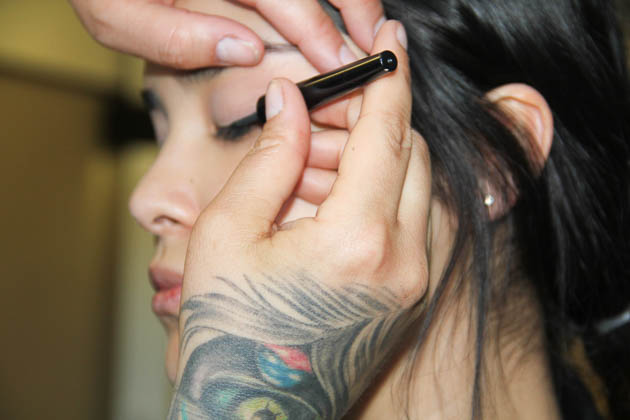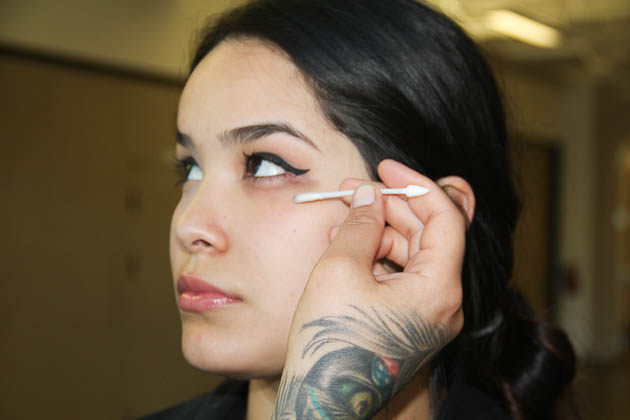 Step 4: Conceal and Correct
To make your liner stand out even more: Grab a concealer brush and your favorite concealer. Once your whole eye makeup look is complete, place 3-5 dots of concealer from the inner bottom corner of the eye, to the very outer corner of winged liquid liner. Gently stipple-pat the concealer under the eye, and bring it right up against the edge of the liner. Set the concealer with translucent powder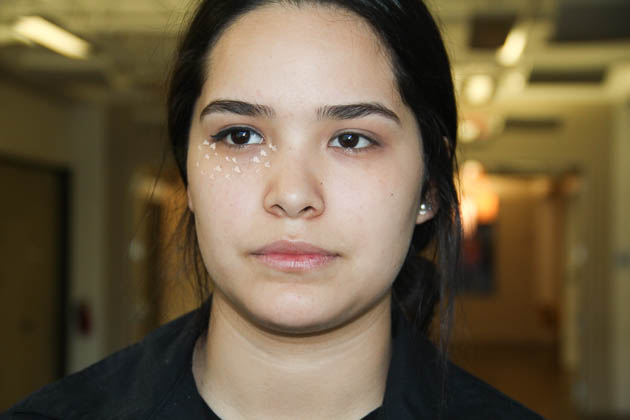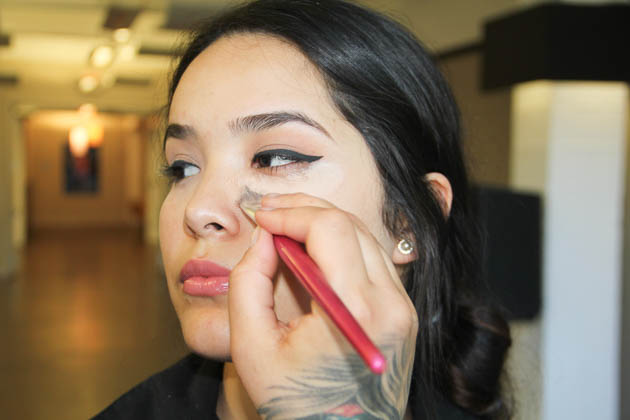 Step 5: Finished Look
Sweep some mascara on your lashes, and a pinky nude lip and now your look is now complete!